The Virtual School consists of all the Children in Care of North Yorkshire, whether they are placed in a North Yorkshire School or elsewhere in the country.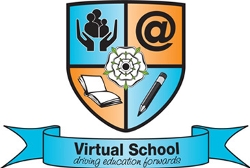 The Virtual School (formerly ELAC Virtual School) is a specialist support team responsible for raising the attainment, progress and aspirations of North Yorkshire's Looked After Children and previously Looked After Children.
Virtual School Team
The specialist team consisting of the Virtual School Head, Lead Learning Adviser and Learning Advisers, Lead Mentor and Mentors, Lead Education Adviser and Education Adviser, are all dedicated to removing barriers to progress and improving educational outcomes for Looked After Children and previously Looked After Children.
They will support and challenge schools and providers to strive for those in care of North Yorkshire County Council.
Virtual School Head
As within any school, the Head oversees all facets of organisational operations, although the Virtual Head also works strategically with Assistant Directors within the County's Education and Children's Social Care departments. 
Based at County Hall in Northallerton, the Virtual School Head attends meetings throughout the County and is often in London influencing National and Government policy.
The role is one of very few Educational positions that is statutory.
The Head is also responsible for writing an Annual Report, together with a summary for ease of reading, overseeing admissions, reducing exclusions and monitoring the distribution of the Pupil Premium money for those Young People in the care of North Yorkshire.
Lead Learning Adviser and Learning Advisers
The Lead Learning Adviser has line management for the small team of Learning Advisers, who all have intervention role. The type of intervention varies in practice dependent upon the age and requirements of the Young People. The main focus is around raising the educational achievements of pupils ranging from 2 year olds to 16 year olds.
Activities may include 1:1 catch up work, if for instance, a pupil has moved schools resulting in time out of school. Direct work may be undertaken due to health considerations that make mainstream school attendance problematic. Additional transition work is also undertaken when a Young Person moves schools, in order to minimise the educational effects of the disruption.
The Lead Learning Adviser also has a statutory role and responsibility to offer training to Newly Appointed Designated Teachers for Looked After Children. Any schools are welcome to contact the Virtual School for 1:1 advice and refresher training at any time.
All Learning Advisers also monitor the targets and Pupil Premium expenditure on Personal Education Plan (PEP) documentation, challenging schools to drive for the best educational outcomes for all those in care.
Lead Mentor and Mentors
Youth Mentors hold a caseload and provide 1:1 support when there are significant barriers to successful access of education. Youth Mentors also hold many portfolio areas such as careers guidance, Independent Living, Further Education or Higher Education provision. They predominantly work with the older aged Young People and aid transition to independent living.
Much work is done by mentoring schemes, such as the involvement and partnership with York St John University and Ripon Grammar school.
The Mentors often work with those who find their Social and Emotional difficulties are impacting on their ability to focus. By building up positive engagement relationships, academic learning can then take place.
The Mentors also assist with holiday activities in conjunction with the Learning Advisers for specific age groups.
Lead Education Adviser and Education Adviser
The Education Advisers attend as many of the Pupil Education Plan (PEP) meetings of the new into care Young People, where North Yorkshire Social Care have taken out the Care Order. This may be outside the boundaries of North Yorkshire and often involves travelling Country wide.
They also help monitor Young People's PEP documentation.
The Lead Education Adviser holds the main responsibility for data holding within the Virtual School.
The Virtual School Team also provide:
Transition packs (packs of stationary and useful equipment) to those in care who are making the transition from year 6 to year 7.
Graduation Ceremony to celebrate the successful completion of significant educational milestones (eg end of compulsory education or university)
The Rainbow Readers and Imagination Library schemes (sending of books to individual Young People directly through the post), to encourage and promote a love of literacy, resulting in the raising of educational standards.
Summer Activities and days out by invitation, depending on age group and activity.
Training and information sessions at Foster Carers support and School Special Needs teachers groups.
Training for those schoolteachers new to the role of Designated Teacher for Looked After Children.
Training to Multi-agency professionals involved with Children in Care.
The distribution of Achievement Awards, acknowledging small but important stepping stones of progress, resulting in improved feelings of pride within Young People. 
Ensure the Pupil Premium for Children in Care is distributed effectively and it has an impact on the educational achievements of North Yorkshire Children in Care.
Ensure that all children in Care have an up to date Personal Educational Plan and that this is dedicated to closing any educational gap between the Young Person and their peers. Where there is no discernible gap, the targets contained within the Plan, should be stretching the Young Person to achieve their very best potential.
Virtual School Activities - What's On 2018
Contacts:
Virtual School Head
Email: Julie.Bunn@northyorks.gov.uk
Tel: 01609 532169
Virtual School Team
Email: virtualschool@northyorks.gov.uk 
Tel: 01609 533231 
Useful Downloads / Documents
Virtual School Annual Report 2017 - published October 2017
Virtual School Performance Report  
NYCC Guidance on Personal Education Plans  September 2017
NYCC Guidance on the Pupil Premium for Children and Young People in Care Sept 2017
Strengths and Difficulties Questionnaires for DTs
The NYCC Adopted Children's Support Team
Services available to adopters in North Yorkshire
Weblinks