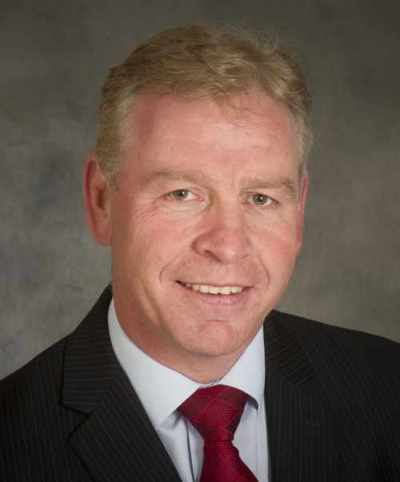 Chief Executive's Key Messages - 31 May 2019
Keep it quiet, but did you know that North Yorkshire is full of spies?! One of our best kept secrets is the GCHQ base located just outside Scarborough, which has lots of classified people working on lots of classified projects that nobody, quite rightly, will tell me anything about! I mention it because a couple of weeks ago, I held one of my senior managers meetings at GCHQ. It was quite a revelation for many people to see this type of facility not too far away from our major seaside tourist resort. It was an interesting place to visit, not least going through security, where two of our colleagues didn't make it (not because they were carted off to a dark prison for interrogation, but because one hadn't brought the right level of ID and the other wasn't on the list!). The place is very top security, with no electrical devices allowed in with anybody and we were escorted at all times. However, we did get a sense of the place and a trip into their interesting museum, which gives the history of GCHQ and how it came to be located by Scarborough – it started life as a wireless station picking up wireless messages and came into its own during the two World Wars. We even got to see the Enigma machine!
 
To have such a significant facility in North Yorkshire is very important and it can be an enormous asset to the County. Firstly, it brings in a large number of well paid jobs to an area that is characterised by relatively low pay. It also represents an opportunity that we are trying to see if we can build upon. The opportunity is to use GCHQ as a partner and magnet for other cyber technology related businesses to come and locate in the Scarborough area. We are working with a number of partners, including GCHQ, Scarborough Borough Council and local business leaders to try and make Scarborough a business tech destination.
 
Scarborough has been a bit of a draw over the last few weeks. One of the reasons I was there was to attend a dinner with business leaders, organised by the Bank of England. They were keen to understand from businesses how they are feeling at the moment, levels of confidence, were they investing and how did they see opportunities for growth. The Bank of England representative also gave an interesting take on the national economy, which as you might expect, was pretty much dominated by Brexit. Quite a lot of the businesses in Scarborough were not only worried about political uncertainty in general, but also some of the issues that could follow from Brexit - most notably difficulties in recruiting people with the right skills for the jobs.
 
Brexit has now led to a leadership race for the Conservative Party, to determine, off course, who will also be the new Prime Minister. All of this adds even more uncertainty, not only to business, but also for councils under public sector. There are many really important issues waiting to be dealt with, including a complete revision of funding for local government, issues around special educational needs and a future basis for how we provide adult social care in this country. Many of you may have seen the Panorama programme earlier this week, which should have driven home to politicians the fact that we simply cannot carry on just trying to get by with councils struggling with not enough money to provide social care services into the future. What we need are politicians who are also watching these programmes and not just jockeying for leadership positions.
 
This week we announced the timings for the Cycling World Championships, which starts on Sunday 22 September. The event will be centred around Harrogate and will cover many parts of North Yorkshire. To see when the races will start and how travelling around the County might be affected, please visit the following website https://worlds.yorkshire.com/. It is probably time to think about how you will be able to catch up with this fantastic event.
 
During the course of the last few weeks we also announced a new Chairman of the County Council. This is Cllr Jim Clark. Jim represents a division in the middle of Harrogate and has been a County Councillor for many years. He is passionate about culture and theatre and would like to bring a flavour of that to his year as Chairman. He will also be looking out for opportunities to meet staff and get to events the Council is working on.
 
Finally, it is worth taking note of the fact that next week is National Volunteers Week and we should celebrate the more than 6000 volunteers that work with the County Council. It is worth saying that figure again – 6000 people who give up their time to be school governors, work in libraries, help our public rights of way and give their time in many other areas of our work and community. It is also worth mentioning and celebrating the very large numbers of our own staff who volunteer and give their own time to work in organisations supporting North Yorkshire's communities.
 
Finally, finally, it is hard to finish without commenting on a highlight of the summer – not the UEFA cup final! – but the cricket World Cup. Cricket is a particular passion of mine and I will be following the matches closely. I have even rather foolishly been drawn out of five years of retirement to play for my local team, Staxton just outside Scarborough. My wife, frankly, thinks I'm mad and having a mid-life crisis, but it has reminded me of the fun team environment and I am quite enjoying playing in the same team as my son. It does mean, though, that you may well see a rather pitiful figure around the council, clutching his knee and back, hobbling from one meeting to another!
 
Community First Yorkshire newsletter
Community First Yorkshire works with voluntary and community organisations, social enterprises and rural communities across North, South and West Yorkshire. You can sign up to their newsletter which includes weekly updates, monthly funding bulletins and a newsletter focussing on rurality. For more information and how to register to receive any or all of the newsletters go to https://communityfirstyorkshire.org.uk/news/subscribe/
Award for Customer Services
Congratulations are in order for our customer service centre, which has been recognised at the National Contact Centre awards. Picking up silver in the resource planning manager of the year category, our customer service centre beat off a number of large private sector organisations, including Vodafone and Co-Op.